Mission Critical recommend high quality products for your business document management, workflow, capture, security and distribution requirements. These are tried and tested solutions and full customer case studies are available for download. Please take some time to browse through the products we recommend, support and provide consultancy for bespoke solutions.
Document Capture Software
Kofax Capture
Capture documents in a digital format to drive business processes and archives.
Kofax Capture™ automates and accelerates business processes by capturing all types of paper and electronic documents and forms, transforming them into accurate and actionable information, and delivering it all into core business applications, processes and workflows.
This can significantly reduce retrieval costs while improving regulatory and compliance efforts. Kofax Capture is flexible and scalable, enabling customers to define where and how images are captured and indexed, whether in a home office, remote branch or back office data center.
Improve the Accuracy and Impact of the Capture Process
Whether information is on paper or in electronic files, parked at a central office or scattered on desktops and remote offices throughout the world, Kofax Capture can help capture it all.
Offering unmatched scalability, Kofax Capture is a powerful, enterprise ready, production level capture platform. It captures information from virtually any source: scanner, multi-function printer, print stream, email, fax, web service or folder. It automates processes at the perimeter of the organization or wherever documents are received, regardless of the location, source, language or type.
Regardless of the hardware or enterprise applications used, Kofax Capture ensures consistent document capture, indexing and validation of all the important information throughout an organisation.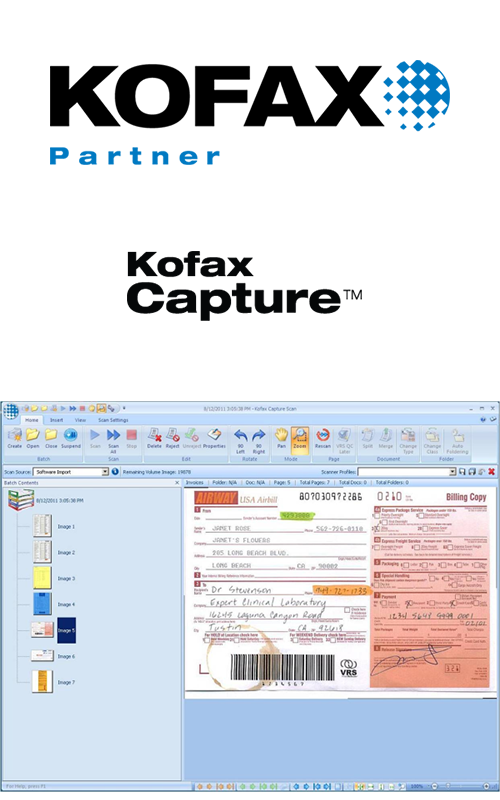 Kofax Capture at a Glance:
Speed Processing
Kofax Capture speeds the capture of paper and electronic documents while providing consistent rules for indexing and delivering them to corporate repositories and applications for quicker processing.
Improve Data Accuracy
Advanced recognition technologies with industry leading extraction rates can capture all types of text, including machine print, hand print and cursive handwriting in more than 140 languages.
Process Ready
Patented Kofax VRS® technology intelligently cleans, rotates, crops and deskews documents before data is extracted and delivered into business processes. Data is clean and accurate.
Capture Anywhere at Anytime
Flexible, highly extendable and enterprise proven, with capabilities for both centralised and distributed processes allows for capture from any source in any location.
Automatic Learning
With Kofax Transformation Modules® the software can be trained rapidly to understand unique document types using learn-by-example technology for classification, separation and extraction.
Get a Faster Return on Investment
ROI is typically achieved within 12 months thanks to improved efficiency and reduced labour costs.
Kofax Export
Your data has been captured, where and how will you use it? Kofax Export tools enable you to export your data to the software of your choice.
Available Export Connectors include:
Documentum Content Server
IBM FileNet Content Server
Microsoft Sharepoint
Opentext
Oracle Content Services
Bespoke Export Tools
In addition to the standard Kofax Export tools Mission Critical provide many bespoke export tools to manipulate, index and output the data you need for your specific business processes. Please contact us for more information.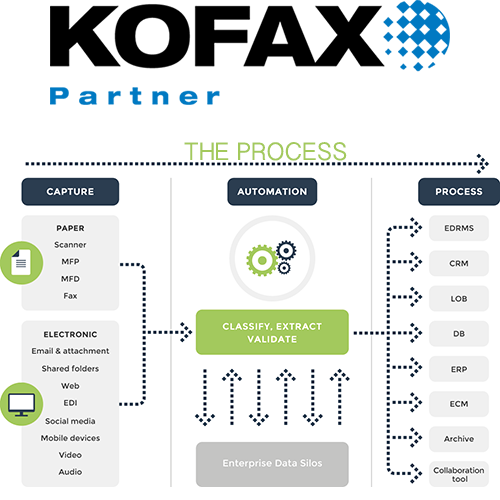 Document Management Software
Opentext Keyfile
Overview
Keyfile document management software has always offered the ultimate in document tracking, content management, version control, and more. Our Keyfile product lets you handle many different forms of information: paper, fax, e-mail, word processor files, scanned photographs - even voice and video - all within the same document. Furthermore, Keyfile Workspace, integrated with Tower Software's TRIM Captura product, has been certified by the Joint Interoperability Test Command (JITC) to meet the U.S. Department of Defence Standard 5015.2!
Keyfile Workspace
The Keyfile Workspace client allows users access to and sharing of their Keyfile objects. They can still work in a manner similar to the "Classic" Keyfile Desktop in that they have a clearly defined document management work area, organised and maintained separately from the rest of their Windows Desktop. Keyfile's Extranet Service enables secure document publishing to business partners across the Internet.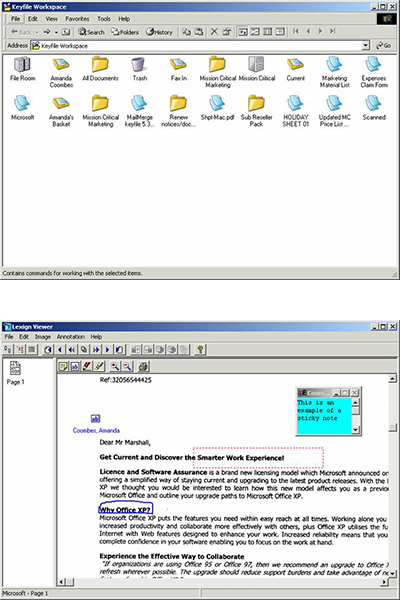 Document Management - The Future
Choosing a document management system that best fits your organisation is extremely complex in todays ever-changing business environment, there are new technologies emerging all the time. If you are an existing Keyfile customer knowing what to do with the Keyfile proprietary database can be a challenge: Maintaining it as a legacy system can be expensive. Migrating to a new system can be both time consuming and expensive. At Mission Critical we can offer a solution.
File360 is a merger of existing and robust technologies; OpenText File360 and Opentext Keyfile. Combining these technologies provides a powerful, intuitive, and scalable document management system that enables your organisation to rapidly capture, index, store, share, and protect your critical business documents, regardless of the application used to create them and without the need to migrate from the existing Keyfile database.
Please talk to us about our services to provide your business with an export path.