Which Scanner?
In the planning stage of your imaging project, selection of the appropriate document scanner is vital. In this decision making process, you should consider the following factors:
Scanner capacity (in terms of max. daily volume) - must enable the system to cope with average daily volume and also peaks in demand.
Scanner reliabilty - must be able to transport the paper reliably. Double feeds and paper jams adversely affect productivity.
Image quality - must be consistently good for all types of paper encountered.
We can supply various document scanners based upon your requirements. Please don't hesitate to contact us if you need any help or advice on which scanner you wish to purchase.
View our Hardware Brochure:

Mission Critical recommend the following scanners for production scanning:
Kodak i4000 Series Scanners
Busy mailrooms, production departments and service bureaus have relied on the Kodak i4000 Scanner for years to deliver a valuable combination of quality, productivity and affordability. It's a great choice for plowing through hours of uninterrupted scanning. Kodak have upgraded the performance of the original line by adding the latest Smart Touch technology.
The control panel functions let you can stay with the scanner instead of moving back and forth to the computer.
Quickly choose to accept, ignore or rescan images before sending to the application.
With Kodak Alaris' Smart Touch technology you can perform up to nine different scanning tasks with the push of a button — including creating PDFs, attaching documents to e-mails, or sending scanned files to Cloud services.
Intelligent Document Protection listens for problems and alerts you before they become jams or misfeeds.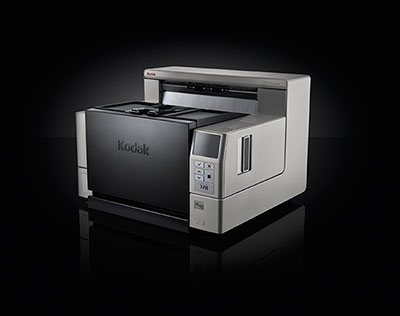 Kodak i5000 Series Scanners
The award-winning Kodak i5000 Scanner Series has been the choice of the most demanding customers in the toughest scanning environments – service bureaus, business process outsourcing organisations, and corporate scanning departments.
High volume throughput provides the processing speed, smooth paper flow, and document handling versatility you need.
Organise large, multi-batch jobs with Intelligent Imprinting and simple patch counting.
Intelligent Document Protection listens for problems and alerts you before they become jams or misfeeds.